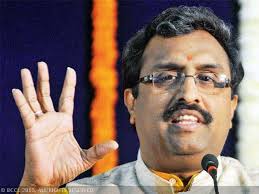 BJP authorises national gen secy of party Ram Madhav to meet Mehbooba Mufti convey party's decision over Govt. formation.Meeting likely to be held on February 13
The BJP 's central leadership after holding a top level meet to discuss the present stalemate over the government formation in Jammu and Kashmir has authorised party's general secretary Ram Madhav to meet the PDP chief Mehbooba Mufti.
Sources say that Ram Madhav is likely to visit Jammu and Kashmir on February 13 to hold one on one meet with the PDP president Mehbooba Mufti.
Sources say that the meet would discuss the conditions set by the PDP chief for continuing party's alliance with the BJP in the state. Mehbooba mufti had pitched for the JK specific CBMs and compliance on the agenda of alliance ahead of entering into the coalition with BJP.
Madhav , a close confidant of Prime Minister Nadrendra Modi and BJP chief Amit Shah will apprise the PDP leadership about the measures taken by the party vis-à-vis the fresh conditions that were set for the alliance by Mehbooba Mufti.
Leader said that the meeting is important in view of the present deadlock and the hardened stand of the PDP president. The leader said that a top level BJP delegation of comprising Dr. Nirmal Singh, BJP's state president Satpal Sharma and Ashok Koul are leaving for Delhi to meet BJP president Amit Shah to apprise him about the ongoing political situation and process of government formation with PDP. Future course of action vis-à-vis the government formation would be decided only after the meeting the sources say.