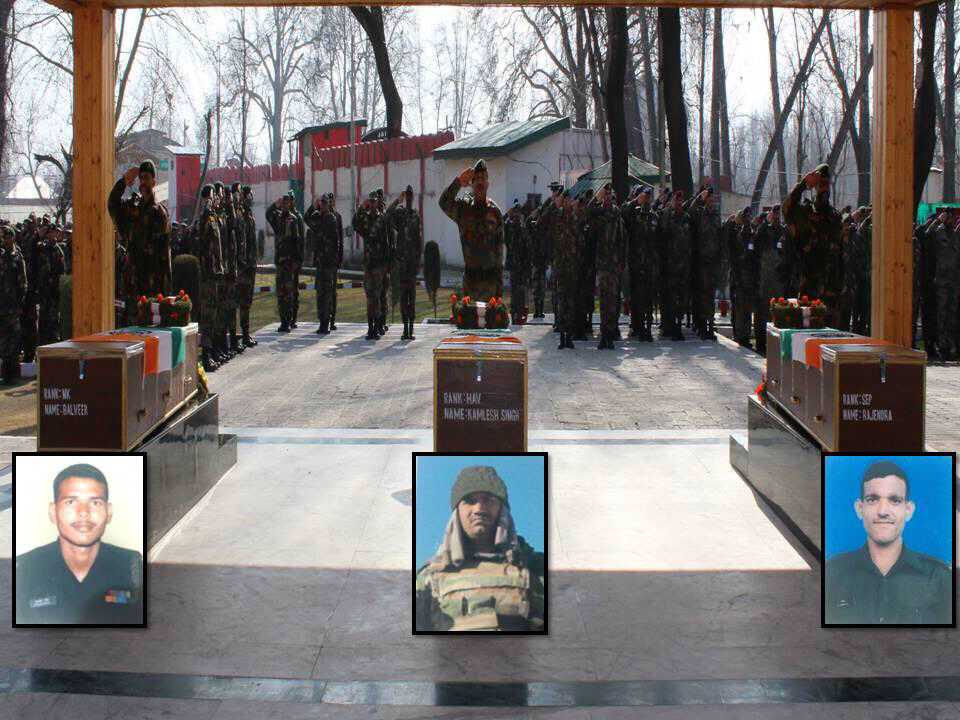 In an unfortunate incident of avalanche in Machil sector on 02 Feb 2018, the Army lost three of its valiant soldiers. We pray for the gallant departed souls who braved all odds with exemplary commitment and dedication to duty and made the supreme sacrifice in the service of the motherland.
In a solemn ceremony at BB Cantt, Lt Gen AK Bhatt, Corps Commander, Chinar Corps and all ranks paid homage to the martyrs on behalf of a proud nation.
Late Hav Kamlesh Singh, Nk Balveer and Sep Rajendra were part of a Patrol party which was serving in the formidable heights along the line of control and got swept away during an avalanche. Concerted efforts of Avalanche Rescue Team led to recovery of the mortal remains of our comrades.
Martyr Hav Kamlesh Singh, 39 years of age, had joined the Army in 1999 and hailed from Village Mahara Gujarwas located in Jhunjhunu district of Rajasthan. He is survived by his wife and three children.
Coming from Village Anjari in Bharatpur, Rajasthan, martyr Nk Balveer was 31 years old and had donned the uniform in 2003. He is survived by his wife and two sons.
The young martyr Sep Rajendra was only 24 years old and had joined the Army in 2012. He belonged to Village Maithna of Alwar district in Rajasthan and is survived by his wife.
The mortal remains of the martyrs will be flown for last rites to their native places, where they would be laid to rest with full military honours. In this hour of grief, the Army stands in solidarity with the bereaved families of the martyrs and remains committed to their dignity and well being.