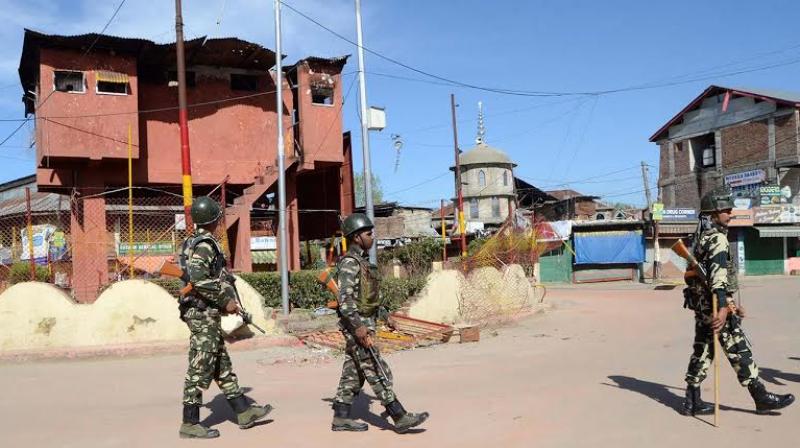 Conceding to the long standing demand of the locals, the Army has been ordered to remove a few its bunkers from Handwara town in Jammu and Kashmir. The decision comes even as tension prevails in the area after alleged molestation of a girl. Curfew has been in place in Handwara and several other parts of Kashmir for nearly a week following violent clashes between the local people and security forces in which five people have been killed.
Now three Army bunkers have been removed from the main Handwara Chowk. The park where a big Army post had been erected more than 20 years ago when militancy was at its peak has been handed over to Tourism Department to build a public park with a fountain. The municipal authorities also erected a board on the premises of the bunker, marking the place for conversion into a public park.
The locals had been demanding for the removal of Army bunker for nearly 20 years. But the Army had maintained that holding the post was strategically important for the troops. The clashes seeking removal of the bunker have led to several casualties over the years.
Meanwhile, curfew-like restrictions were relaxed in violence-hit Handwara town for four hours on Tuesday but remained in force in Kupwara and Trehgam towns of north Kashmir, police said.
"Restrictions have been relaxed for four hours in Handwara town from 8 to 12 noon. The relaxation period can be extended if the situation remains peaceful," a police official said. He said so far the situation in violence-hit town was peaceful.
However, there was no relaxation in the curbs on the movement of the people in Kupwara and Trehgam towns in view of apprehension of violence.
The restrictions were eased on Monday for three hours but had to be clamped again following violent protests.
Three persons including a woman were killed in firing by security forces on protestors last week. Two more persons were killed in a separate action by security forces against protestors on Wednesday in Drugmulla and on Friday at Natnusa.