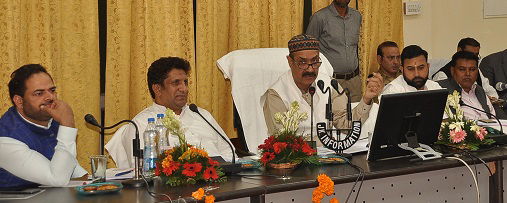 Minister for Horticulture, Law, Justice & Parliamentary Affairs, Syed Basharat Ahmed Bukhari, today convened a meeting to review the progress of ongoing prestigious projects being executed by Northern Railways and National Highways Authority of India (NHAI).
Vice-Chairman Advisory Board for Development of Gujjars & Bakerwals Gulzar Ahmed Khatana, Lawmakers Aijaz Ahmed Khan, Vikar Rasool Wani, Neelam Kumar Langeh, Sham Lal Bhagat, District Development Commissioner Ramban Tariq Hussain Ganai besides representatives of Northern Railways, NHAI and executing agencies were present in the meeting.
The meeting took stock of four-laning of Srinagar-Jammu National Highway from Nashri to Jawahar tunnel and Katra-Banihal railway line project and also discussed issues hampering the pace of these prestigious projects.
The Minister directed both the authorities to accord priority to locals while employing people on the projects, especially with regards to skilled manpower. He also asked the authorities to ensure that the salaries being paid to local skilled manpower is at par with their contemporaries in other parts of the country and remove discrepancies if any.
Taking a serious note of the concern raised by legislators regarding delays in clearance of compensation claims by the Railways, the Minister directed the Northern Railways Authorities to expedite the process and clear pending cases within a month's time. He also stressed upon authorities to expedite the rent claim cases for people who have been affected due to these projects.
Similar directions were passed to NHAI to ensure no delays in clearing the compensation claim cases so that people do not suffer undue difficulties.
With regards to the natural water sources being adversely affected by ongoing development projects, Bukhari directed agencies to take up simultaneous restoration and preservation measures for these water sources.  He also asked the agencies to take up remedial measures to ensure drinking water supply to left out areas affected due to drying of some water sources and judiciously utilize Rs 3.89 crore funds released for the purpose.
Additional directions were passed to Railway authorities to allow access to PHE Department to tap water from the mountain steam found at Tatnihal while dredging and excavation work for tunnel there within two days time.
Railways Authorities were also directed to take up regular maintenance and upkeep of roads being used by them as logistic lines, especially the Banihal – Bankoot – Tatnihal stretch and approach roads. Further, Railways were directed to release funds for construction of approach road from village Kaskoot to Railway Station so that works can be taken up for the same.
The Minister directed the concerned to expedite the land acquiring process for highway expansion works and transfer the same to NHAI and directed the executing agencies to ensure the upkeep of Banihal-Ramban and Ramban-Nashri stretches especially in the light of forthcoming Amarnath Yatra.
He also asked them to undertake anti-pollution for major towns along the highway stretch including Banihal, Ramsoo and Ramban.
Bukhari also directed the Railways and NHAI to take up CSR works in consultation with local legislators. He asked both the agencies to submit a detailed report for works completed, being taken up and proposed under CSR initiative.