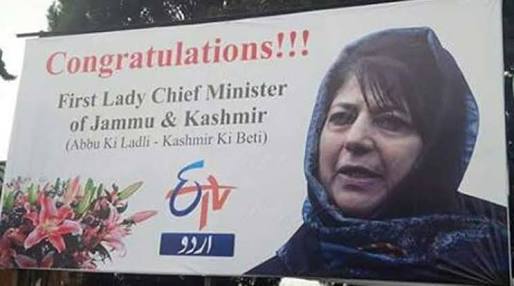 A hoarding put up by a TV channel here to congratulate Jammu and Kashmir Chief Minister Mehbooba Mufti sparked a controversy following the resignation of one of its employees.
Group Editor- ETV News Network,  Rajesh Raina said "there is nothing wrong in congratulating the new Chief Minister" and "hoardings are part of the channel's "routine branding exercise which has nothing to do with editorial policy of the channel."
ETV Urdu put up a hoarding congratulating Mufti, after which one employee of the media house resigned.
"ETV Urdu, which is the most popular channel in J&K because of its free and fair voice, will continue to adhere to the same free, fair, independent and non-biased editorial policy,"  Rajesh Raina said.