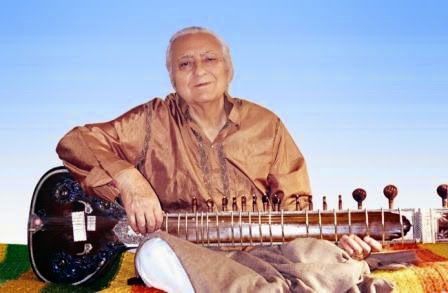 Legendary sitar player and noted musician Pandit Shamboo Nath Sopori passed away in Delhi on Wednesday. He was 98. He was father of Santoor Maestro Bhajan Sopori who was at that time performing in Nawakadal College in Srinagar.
 Pandit Shamboo Nath Sopori popularly known as 'Masterjee' was a musician with phenomenal energy, artistic qualities, devotion, dedication and perfection. A legendary name in the musical world of Jammu and Kashmir, he has been a guru of thousands of students and Hindustani classical music grew with him in the valley. Sitar, Santoor and classical vocal were his forte. A large number of professionals, music performers and teachers are his taught. To name a few: Prof. Jai Kishori Kaul, Mr. O.N.Raina, Prof. Usha Bagati, Prof. Hawa Bashir, Prof. Rifat Jabeen, Prof. B.L.Koul and the 'Melody Queens' of Kashmir Shamima Dev Azad and Kailash Mehra. Even the Maharani Yashoraj Laxmi ji of the Royal family of J & K State is Pandit ji's disciple. The more said about him is less. Every word said about him stands testimony and no one can deny the fact that he is the father of music in the valley.
He introduced Hindustani Classical Music as a subject initially in S.P.Higher Secondary School for boys and later on in the Girls College at Maulana Azad Road and paved the way for the musicians to grow and make music a source of lively hood. It's due to the pioneering and dedicated efforts of Pandit Sopori ji that musicians got a prestigious status in the valley.
Sangeet Maha Vidyalaya, the School purely of Indian Classical Music that Pandit ji started in the valley was the only source of holding Hindustani classical (vocal and instrumental) and Indian dance concerts in the valley which featured the recitals of luminaries like Ustad Amir Khan Sahib, Pt. Nikhil Banerjee, Ustad Naseer Aminuddin Khan Sahib, Ustad Bade Gulam Ali Khan Sahib, Ustad Mushtaq Ali Khan Sahib, Ustad Rahimuddin Khan Sahib, etc.
The school even presented Carnatik Instrumentalists and Vocalists before the students and the general public. However in spite of his busy schedule, as for the family sanskara, Pandit ji also lived in the company of Saints and Sufis and would perform for them along with his youngest son Bhajan Sopori. Some of them were Swami Parmanand ji, Swami Nand Bub, Swami Laxman Joo, Swami Kral Bub, Soan Saeb Badasgom, Faqir Aahad Saib and many others.
Pandit ji has been the pioneer in putting some of the Muqams in the notations to ensure its preservation. He is the most loved and respected musician of the state.