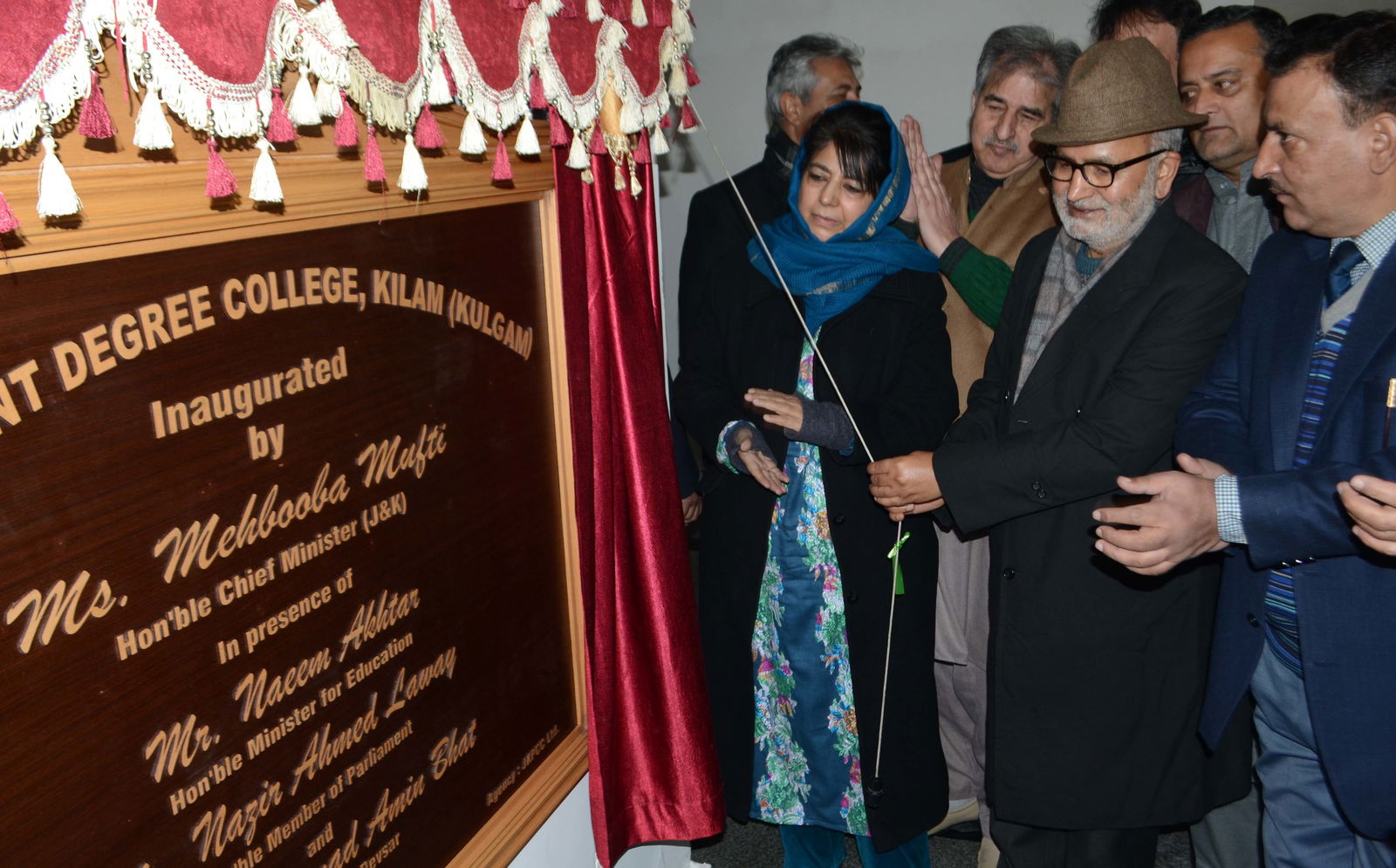 Chief Minister, Mehbooba Mufti today visited Kulgam and took on the spot review of the developmental projects in the district. She also inaugurated many of the utilities in the district.
The Chief Minister inaugurated a Degree College at Kilam. She went round various blocks of the college and sought details of the course curriculum and intake capacity.
On the occasion, Mehbooba Mufti announced that both medical and non-medical streams besides Functional English would be taught at the college.
The Chief Minister also inaugurated a branch of the J&K Bank and ATM facility at Kilam which was a long-pending demand of the people of the area.
Later, the Chief Minister laid the foundation stone of Maternal & Children block of the District Hospital, Kulgam. Comprising 50 beds, the block would be completed within two years. The addition of this block would give a big relief to the children of the area who have to be shifted to Srinagar or Anantnag in the event of any ailment.
Mehbooba Mufti sought strict adherence to the time schedule of the projects from the engineers adding that no scope should be left to extend the completion deadline. She also directed early repairs of the lift system at the District Hospital.
The Chief Minister also inaugurated General Nursing & Mid-Wifery School at Kandipora. Built over a cost of Rs 5 crore, the school would have facilities of lecture halls, labs and other facilities. She also laid foundation stone of a nearby residential complex for officers which would be built over a cost of Rs 68 lakhs and would have 40 apartments.
Minister for Health & Medical Education, Bali Bhagat; Minister for Education, Naeem Akhtar; MP, Nazir Ahmad Laway; MLA, Abdul Majeed Paddar; Chairman, J&K Bank, Parvez Ahmad; Commissioner-Secretary, Higher Education, Dr Asghar Samoon; Divisional Commissioner, Kashmir, Baseer Ahmad Khan; Inspector General of Police, Kashmir Zone, SJM Gillani; former Deputy Speaker, Legislative Assembly, Mohammad Sartaj Madni; DIG, SKR, Nitish Kumar; Deputy Commissioner Kulgam, Showkat Aijaz; Superintendent of Police,  Shridhar Patel and other senior officers accompanied the Chief Minister during the visit.
En-route the Chief Minister interacted with several deputations, many of them comprising women, who sought redress of their day to day grievances. Mehbooba Mufti listened to their demands patiently and assured them of appropriate and time-bound action.